Christmas is just a few months away. An important festival for most around the world. Getting ready for the festival begins months in advance, especially in Europe. Imaginative rows of sparkling fairy lights around delightful cobblestone boulevards with small wooden collectibles on shelves to come home in your suitcase. Sounds fabulous, isn't it?
The Christmas season is one of the best times to visit Europe when the festive spirit spills onto the streets and the wintry weather is pleasant enough for you to walk around. Christmas markets spring up in towns all over Europe. They are one of the best ways to enjoy everything the town has to offer, including shopping avenues.
Shopping for Christmas doesn't mean you must battle crowds at the department stores or score the Internet looking for good buys. Combine your gift buying with a dream Christmas in Europe.
You can drink spiced wine, bite on small cookies as you wander about the stands and villas from Strasbourg, Berlin to Amsterdam and beyond. Fill your suitcase with dolls made of prunes in Germany and gather Tartan Christmas ornaments for your Christmas tree in Scotland.
Here are the best Christmas markets in Europe you mush check out
Best Christmas market in Austria: Most of Austria gears up to usher in Christmas months before December. Traveling to Austria and not visiting these markets is a crime. There are several markets that hold historical significance introduced decades ago but are still part of the town's heritage today. Among the best Christmas markets in Austria, there are a few unmissable ones.
Best Christmas market in Vienna: This beautiful city offers some of the most historic and ancient Christmas markets you will ever find in Austria. The Christmas World market in front of the City Hall is the best Christmas market in Vienna. There are over 150 stands, full of handmade decorations, knick-knacks for Christmas, and mouthwatering food. In the center of the market, you will find a huge Christmas tree set up with sparkling fairy lights and dainty ornaments. Open from 18th November to 30th December.
Other markets in Vienna worth checking are The Christmas Village in Maria-Theresien-Platz that is open from 22nd November to 26th December; and the Old Viennese Christmas Market on Freyung since 1722. It is open from 18th November to 23rd December.
Other Christmas markets in Austria are The Old Town Market, Hungerburg Christmas Market, and Family Christmas Market at Innsbruck, Tyrol; the Salzburg Christkindlmarkt and Mirabell Square Christmas Market in Salzburg; the Hauptplatz and Glockenspielplatz Christmas Market in Graz, Styria.
Best Christmas Market in Germany: Whether you travel often, or it is your first foray to Germany, a visit to fabulous markets set up in winter is a must. The Christmas Market's beliefs and traditions are woven into the social fabric of the country. From Cologne to Dresden, Nuremberg to Hamburg, weeks before Christmas, decorated huts spring up over the town squares and spread festive cheer with handmade goods and enjoyable food.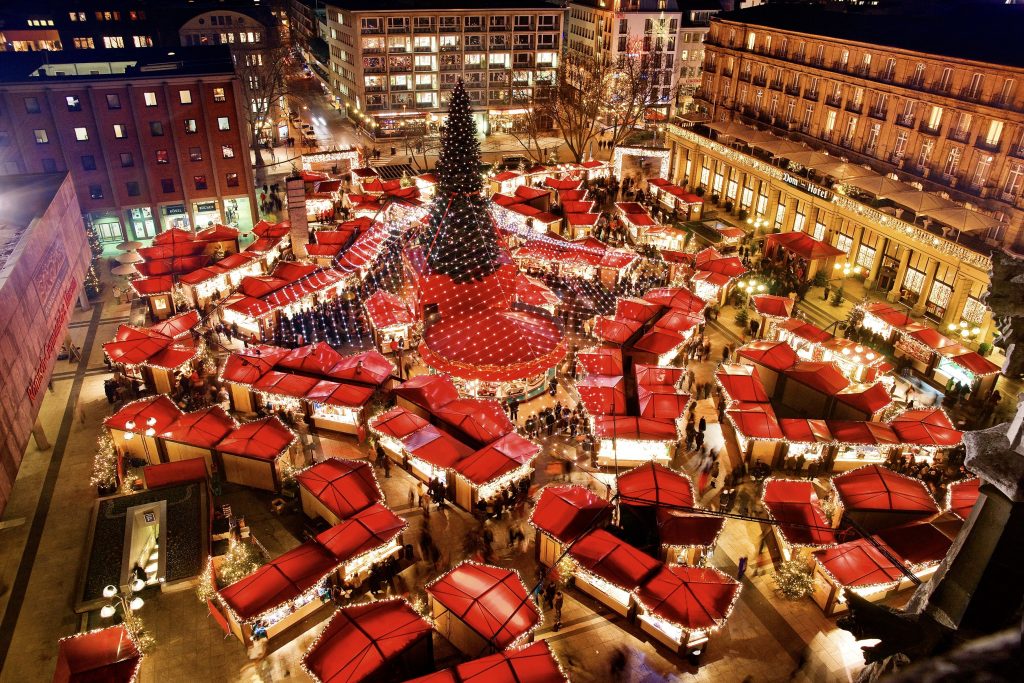 Best Christmas Market in Cologne: With the Cologne Cathedral as its backdrop and under the largest Christmas tree in the Rhine is the Weihnachtsmarkt Am Kölner Dom -one of the best and favored Christmas markets in Cologne, Germany. Check out the wooden pavilions full of handcrafted gifts that include wood carvings, soaps, and tree ornaments. If you love food, then try the sumptuous local organic foods, enjoy the street dances, or get on the merry-go-round for a trip down the memory lane. The Angel's Christmas Market is the oldest with several artisan booths and spiced wine stands around the shopping district. If you have time explore the Old Market Christmas in front of the town hall or the Harbour Christmas Market near the chocolate factory in Cologne.
Don't forget markets in Dresden, Berlin, Stuttgart, Leipzig, Aachen, Nuremberg, Munich, Hamburg, and Guteneck are home to some of the best Christmas Markets in Germany. You can enjoy the food, activities, artisan booths and more.
Best Christmas Market in Poland: For unconventional and non-traditional Christmas markets, Poland is the place to be. Though these markets have taken place for epochs, the experience is unlike typical Christmas markets in Austria and Germany. The largest Christmas market in Poland takes place in Krakow's Main Market in December. Though other cities in Poland do have their own markets they aren't as expansive as the one in Krakow.
If you want to buy handcrafted goods, Polish Christmas ornaments or try their winter treats, then a visit to these markets is the best thing to do. Famous centers decked in Christmas lights; town squares decorated with ornate trees make the towns look picture-perfect in Poland. Christmas market dates change based on popularity, size and the organization setting up the market. Krakow Christmas Market, Wroclaw Market, Warsaw, Gdansk, Poznan, and Lublin have some of the best Christmas Markets in Poland. Szczecin, a tiny city on the border near Germany has a small Christmas fair at the Castle of Pomeranian Dukes, which is worth a visit.
Christmas markets are mesmerizing, stunning and shopper's paradise. If you are planning a winter vacation, try Europes Christmas markets this time. To get more details, connect with Kesari Tours.