What's the first thing you think of when you hear Dubai? Luxury, Burj Khalifa and plenty of shopping avenues, isn't it? Well, there is more to the United Arab Emirate's city of excess, Dubai. From the tallest skyscrapers, futuristic structures, along with its blatantly redolent desert magnificence there is more you can experience in the city. To give you a chance to experience the best, Kesari Tours put together an ultimate Dubai travel guide
Best time to visit Dubai: The best time to travel to Dubai is from November to March when the climate is cooler. But, remember, it is also Dubai's peak travel season, which means prices could be higher than other times during the year. Of course, this also means you can check out the early Christmas sales, or plan a holiday during the Dubai Shopping Festival. Dubai has two seasons; one is hot while the other is a little more bearable when you can make use of air-conditioned places to visit in Dubai that will shield you from the unceasing heat.
Places to visit in Dubai: If you are a first-time visitor then there are several tourist attractions in Dubai right from sublime beaches, magnificent malls, and not to forget the desert in Dubai. You may not be able to see them all, but make sure you visit a few mentioned below.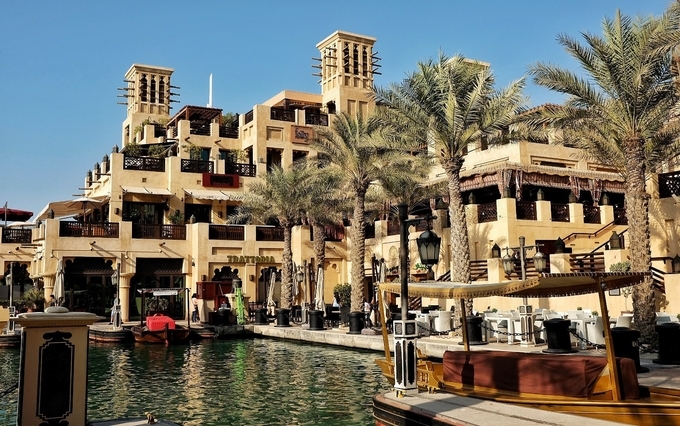 Souk at the Madinat Jumeriah: You must the traditional Arab market if you'd like to enjoy the Middle Eastern culture and look for vintage knick-knacks. From couture brands, boutiques, and country shops you can explore all you want and buy. If you get a chance, then visit the falconry and click a snap with the falcon. The market opens at 10 am and closes at 11 pm.
Jumeriah Mosque: Though it is not one of the largest mosques in UAE, do visit the Jumeriah Mosque. Known as a landmark in Dubai, this Fatimid-style masjid is open to both Muslims and non-Muslim visitors. You can also learn about Islam and the traditions followed while worshipping for a fee or you can just enjoy its architectural beauty.
Burj Khalifa: Not visiting Burj Khalifa when in Dubai is like not visiting the Vatican when in Rome. A visit to the tallest building in the world is a must. This 2717 ft structure boasts of a swimming pool on the 76th floor and a fantastic observation deck on the 124th and 125th floor. Though futuristic, there are a few elements inspired by other Islamic buildings in Dubai. Open from 8.30 am to 11 pm every day. You will have to pay entry fees.
Dubai Parks and Resorts: Found on the Sheikh Zayed road on your way to Abu Dhabi, Dubai Parks and Resorts is one of the biggest theme parks and leisure areas in the UAE. With plenty of entertainment avenues for both children and adults, including the Bollywood Park, Motiongate and Legoland you will your time is not enough to explore it all. Do try the food at the cafes in Riverland Dubai.
Things to Do in Dubai: You will find there are several things you can do in Dubai and not enough time. But, to make the most of your holiday do try a few of the things listed below.
Ski Dubai: Skiing in the desert? Well, it's true. Ski Dubai is an indoor 220 sq.km area for skiing. Kept at a temperature of 1° to 2° Celsius so that you can have all the fun whether it is skiing from different heights, engaging in snowball fights, or eating at restaurants overlooking the slopes. Entry fees are about 170 AED for children and 220 AED for adults for 2 hours. You can also buy the full day package if you plan to make a day of it.
Dubai Mall: Known as the shopping mecca around the world, the Dubai Mall is one of the largest malls in the world. Home to several brands, it is also the most visited place in the world surpassing Times Square in New York, Los Angeles, and Niagara Falls. Not just stores, you can also enjoy the theme park, check out a movie at one of the 22 screens, peek at the haunted house and the 7 m high Dino fossil.
Another thing you can do in Dubai is to visit the Aquarium and Underwater Zoo. The Aquarium is home to 140 aquatic species, while the Zoo has plenty of sea animals including jellyfish, piranhas, crabs, sea horses and more. You can see King Croc, known as the largest reptile in the world for its 5m long body weighing more than 750 kilos. To enjoy the underground zoo, take a glass-bottom boat ride. Don't forget the skating rink.
Other things you can do are take a walk along the Palm Jumeriah, visit the Dubai Fountain, Marina, Museum, Wild Wadi Waterpark, and the Dubai Creek.
Things to remember
Plan at least 5 to 6 months in advance
Dress modestly especially in public places
Do not call or point your fingers at others
Do not drink in public.
Drinking and disorderly conduct are punishable.
Ask permission before you take photos. Don't take photos of government buildings, government installations, airports, etc.
Have we made it easier for you to explore? Well, use the Ultimate Dubai Travel Guide and connect with us at www.kesari.in to get the best deals.