Ramazan is an important festival for Muslims across the world. According to the Islamic Calendar, Ramadan is the ninth month, during which the people from the Muslim community fast during the day to commemorate the Quran's first revelation to Prophet Muhammad. Based on waxing and waning of the moon, the month of Ramazan lasts for 29 to 30days. During Ramazan, the people pray to Allah and follow day long fasting followed with Iftar i.e. an evening meal to end their Ramadan fast after the sunset. They begin their fast at sunrise and break it once the sun sets.
Mohammed Ali Road during Ramzan
Mohammed Ali road Mumbai is known for its food lanes, hotels, and street food centers, along with other enticements for foodies during the month of Ramazan. They are plenty who believe that your Ramazan journey will remain incomplete without a food walk to the hotels and street food centers in and around Mohammed Ali Road in South Mumbai. Named after an Indian Muslim scholar and the leader Mohammad Ali Jouhar, this road is full of people and tantalizing aromas of roasting meat, sweet dishes and more.
A word of caution though. Not meant for vegetarians and if you are very particular about hygiene; But for all the atmosphere and experience, Kesari Tours strongly recommends this to everyone. A mere 15-minute walk from the Masjid Bunder station or a 10-minute cab ride from Churchgate or CST station is where you can find everything delicious.
With the beautiful bedecked Minara Masjid as a background, all you need to do is be open to the fantastic experience. The best time to visit Mohammed Ali Road is after 7 pm during the month of Ramazan. Look at some must-have delicacies when you are there.
Specialties of Mohammed Ali Road Food Centers at a Glance
Street Foods at Khau Galli
If you want to have varieties of tasty and delicious food items for Iftar after your fasting for the entire day, don't miss a trip to the famous Mohammed Ali road khau galli to enjoy a variety of snacks, spicy tikkas, soups, chicken dishes, succulent kebabs and sweet dishes there.
Suleiman Usman Mithaiwala's Malpua with Rabdi: The Malpuas are an Indian version of lovely pancakes. Made using flour and egg, these fried malpuas, dipped in sugar syrup, and topped with Rabdi. A single malpua can feed two.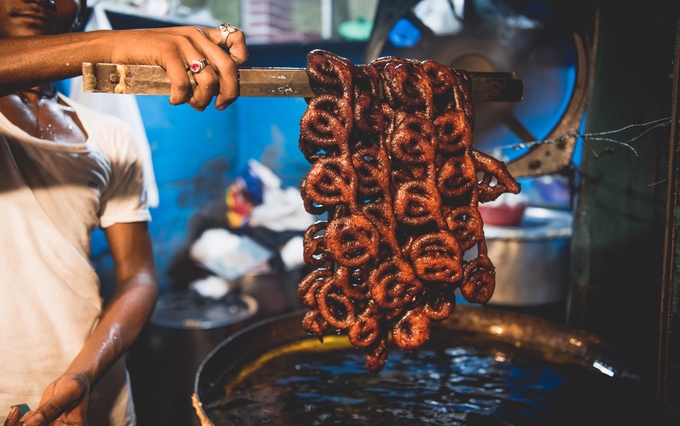 Burhanpur Mawa Jalebis's Mawa Jalebi: Remarkably close to the Masjid in a small narrow lane, you will find the Burhanpur Jalebi Center with its unmissable mountain of mawa jalebi. Unlike the regular thin crisp jalebis, these are succulent filled with rich mawa dipped in all its sugary goodness. Avoid eating at once lest you burn your tongue.
Chinese-n-Grill's Nalli Nihari: For those who love mutton, the Nalli Nihari is a dish you will fall in love with. Extremely popular during the Ramadan; the Nalli Nihari is tender meat falling off the bone cooked in a delicious gravy. Best had with butter or Rumali Roti. Don't be shy, you must try the mutton gravy. You can also try their fried chicken, chicken seekh kebabs and more.
Kebabs, Tikkas and more: Every street food stall in Mohammed Ali road offers a mouthwatering variety of tandoori items, kebabs, and tikkas. You will find an assortment of meat coated in spicy marinade, grilled to perfection, and served hot with a slice of lime. Get a taste of Shammi Kebab, Chicken tikka, Pahadi kebab and more.
Phirni: This is one sweet dish that you won't mind having repeatedly. Made using grounded rice, cream, milk, sugar and saffron. Almost all sweet stores at the popular Mohammed Ali Road serve Phirni in clay pots, which adds something more to its authentic taste.
If you want to have a fine dining experience with your friends and family members then check the Mumbai Mohammed Ali road hotels. These include but are not limited to Noor Mohammadi Hotel, Shalimar Restaurant, Hotel Shan-E-Ilahi and Hotel Hindustan, Chinese-N-Grill, and others.
If the food is exciting, and you would like a taste, check with Kesari for its food tours.