Janmashtami is around the corner, when every Lord Krishna follower gets ready to enjoy his birth once again. This festival is celebrated with much fervor around the world. But one of the best places to see this divine spectacle is Lord Krishna's hometown Mathura Vrindavan the twin cities mentioned in the epic Mahabharata too.
One of the sacred Hindu cities, Mathura Vrindavan holds a prominent place in Lord Krishna's life. Right from depictions of his childhood, the famous 'Ras Leela', to the countless stories that are part of history today. Home to some of the best Lord Krishna Temples in India, a visit to the city is a must. The temple bells ringing in the new day, the Hare Krishna or Radhe Radhe chants fill the air energizing you everywhere you go.
Immersed in history and mythos, there is no shortage of places to visit in Mathura Vrindavan. You can see the gorgeous Dwarkadhish Temple, Yum Yamuna Temple, Vishram Ghat, and Raman Reti to the Peepleshwar Mahadeo Temple, Birla Mandir, Nandeshwar Mahadev Temple, and Kokilavan Dham there is plenty you can explore. To make it easier for you to visit the top place on your Mathura Vrindavan tour, Kesari made a list.
Mathura: Birthplace of Lord Krishna. Situated at the heart of Braj or Brij-bhoomi, Mathura is mostly called as Shri Krishna Janma-Bhoomi. There are several temples of Lord Krishna in this holy town where people can be seen in festive attires and happy mood. Rasleela is one of the most performed activities of Mathura that depicts the story of Lord Krishna.
Vrindavan: Vrindavan is another beautiful place that enjoys great connection with Lord Krishna. He spent his adolescence at this place and the famous raas-leela between Radha-Krishna started here.
Nidhivan: It is a temple complex surrounded by bushy forest in Vrindavan and attracts people from all over the world. It is believed that Lord Krishna performs Raas-Leela with goddess Radha and other Gopis. This is the reason Nidhivan is closed after the evening aarti. But no human being can see them. Nidhivan has Rang Mahal. Radha and Kanhaiya visit this every night. The sandalwood bed kept for Radha and Kanhaiya in Rang Mahal is decked up with flowers before 7 pm every day. Lotus water among other things are kept near the bed.
Raman Reti: One place to visit in Mathura is Gokul's Raman Reti. Also called Ram Van, it is a few kilometers away from Mathura. One of the places where Lord Krishna played with his brother and other cowherds and met his eternal love Radha before beginning their journey to Vrindavan together. Considered sacred, today Raman Reti is in a sprawling compound that also houses a deer sanctuary, a few stunning temples, and an area where saints, pilgrims, and ascetics can rest and relax.
Right next to Raman Reti is the well-known Karshini Ashram, which homes the ancient Raman Bihariji temple. Devoted to the 18th-century saint Gyandas, the deity of Lord Krishna is just like he saw in a vision as a blessing for his penance to please Lord Krishna. A visit to this temple is a must when you are on a Vrindavan Mathura tour.
Nandeshwar Mahadev Mandir: The temple is close to the Nandbhavan in Nandgaon near Mathura. It is devoted to Lord Shiva. The Shiv Ling is ancient, and Lord Krishna's grandson Vajranabha had it installed in the temple. One of the five-sacred Lord Shiva temples in Braj, the Nandeshwar Mahadev Mandir stands guard protecting the master of Nandbhavan from evil.
Legends believe Lord Shiva wanted to meet Lord Krishna when he was a baby in his usual avatar. But, baby Krishna's mother Yashoda feared he would scare her baby and refused to let him in. Disappointed Lord Shiv went back to the forest and prayed to Lord Krishna for his blessings. Locals believe baby Krishna cried and would not quieten. So, it forced his mother to call the mystic again. On seeing Lord Shiva, the baby smiled. A pleased Yashoda asked Lord Shiva if she could do something for him. Lord Shiva asked for baby Krishna's morsel. Even today the prasad at the Nandeshwar Mahadev Temple is offered to Lord Krishna and Balarama in Nandbhavan first.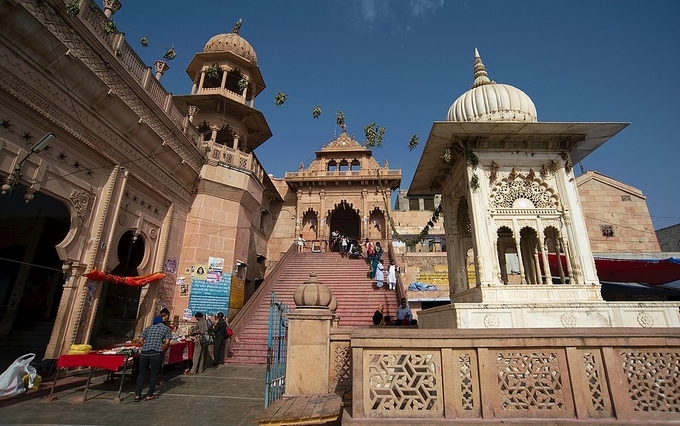 Barsana: For avid followers of Lord Krishna on a Mathura Vrindavan trip, Barsana is a must-stop. The birthplace of Goddess Radha -Lord Krishna's eternal consort. The charming and captivating town Barsana is 40 km away from Mathura. Home to several ancient temples, divine lakes, and the playground for Lord Krishna and his lady love Goddess Radha. With the Brahma and Vishnu Hill surrounding this town, and ancient temples are on each of the four peaks Barsana is a great place to explore. One of the must-visit temples is the Shriji Temple or Ladliji temple on the Bhangarh peak devoted to Goddess Radha enshrined 5000 years ago. The temple is gorgeous with plenty of graceful arches, high domes, evocative images of Radha Krishna, and other ornamentations. Radhashtami and Holi celebrations are unique and a must-experience.
Nandbhavan: If you're visiting the Nandeshwar Mahadev Mandir, then make time for a quick tour to Nandbhavan. The house belongs to Lord Krishna's adoptive father Nand. This opulent home lies on a lush mountain peak surrounded by verdant rolling hills. Nandbhavan is home to wide-open spaces amidst palaces that have several rooms and mythical spaces that legends are made of. Don't forget the 19th- century temple made of red sandstone devoted to Nand Raiji. This captivating temple is full of magnificent paintings and murals that depict scenes from Lord Krishna's family life. Nandbhavan may be crowded so have at least 2-hours on hand to explore this large compound.
Brahmand Ghat: Going on a Mathura Vrindavan tour and missing out on Brahmand Ghat would be a crime. The legendary town of Gokul is 15 kilometers southeast from Mathura. It is choc-a-bloc of fabulous buildings, magnificent temples, and other mystical places. One of these mystical places is the soothing stretch of land along the banks of River Yamuna called Brahmand Ghat. It is the same place young Krishna had revealed the whole cosmos in his mouth to his mother Yashoda after eating mud near the river. That's how the place was named Brahmand Ghat meaning 'the universe'. Don't forget, visit the Krishna temple close by. Locals believe the mud from the town of Braj has healing powers.
If you feel like exploring the places mentioned above, then what are you waiting for? Connect with Kesari Tours to find the best deals for a Vrindavan Mathura Tour.