India is a country of excesses, right from mountains surrounding the country, rivers in the north, south, east, and the west, to verdant valleys and gorgeous gorges, rock caves and more. If that's not enough, large forts and fortresses built on mountain tops that call for a hike for sure. With so many mountains, several routes and trails are perfect for trekking even in the monsoons, when the trees turn green and the vegetation becomes lush once again. Another reason to plan monsoon treks is to enjoy flowers in full bloom, migrating birds, and enjoy nature. While you can breathe in the relaxing air and let go of the stress. Though a few Himalayan trekking trails can be dangerous and prone to landslides, there are other trekking trails you can go on in the Western Ghats and the Himalayas.
Here are a few monsoons treks in India you must try once
Pune Trek to Sinhagad: The one-day trek to the 17th-century fort Sinhagad is a moderate level trek and can be difficult. The fort is around 4320 ft above sea level and is only 30 km away from Pune. Among the several monsoon trek options in Maharashtra, the Sinhagad Fort trek is the most popular. The fort is home to verdant greenery and the monsoons add to the beauty of the fortress. With fabulous scenic views, sublime sunrise and sunset, this route makes for a great monsoon getaway.
Uttarakhand Trek to Valley of Flowers: The Valley of Flowers National Park in Uttarakhand is open only during the monsoons from July to September. This makes the park one of the most sought-after places for a trek during the rains. This UNESCO World Heritage Site is a part of the Nanda Devi region. The rains bring in fantastic weather while the valley covered with rainbow hues of flowers in full bloom makes it a picturesque scene you must capture for sure. If nature's color palette is not enough, you can see colorful butterflies, musk deer, and birds. This trek is a week-long and easy and 3858 mt high above sea level.
Himachal Pradesh Trek to Hampta Pass: If you are new to trekking and not looking for a difficult trek, then the trek to Hampta Pass is just what you need. This trek allows you to experience Himachal as it begins in Manali going across Kulu Valley and the Lahaul Valley. On the way, you can get a glimpse of magnificent glaciers, hill forests, extensive prairies, the lofty Himalayas, verdant valleys, and gorges. This journey is 4-5-days long, where the trek can be easy to moderate. The Hampta Pass is 4,298 mt high in the mountains.
Jammu Kashmir Trek to Tarsar Marsar: Jammu Kashmir is a paradise on Earth there's more to the state than just the Dal lake. Called one of the most stunning treks in India, the Tasar Marsar trek offers a surprise to nature enthusiasts. From placid hill lakes, large savannahs bursting with several flower species, lush meadows, you can see them all on this week-long trek. Named after two glacial lakes Tarsar and Marsar, the trek route is moderate at a height of 4023 mt.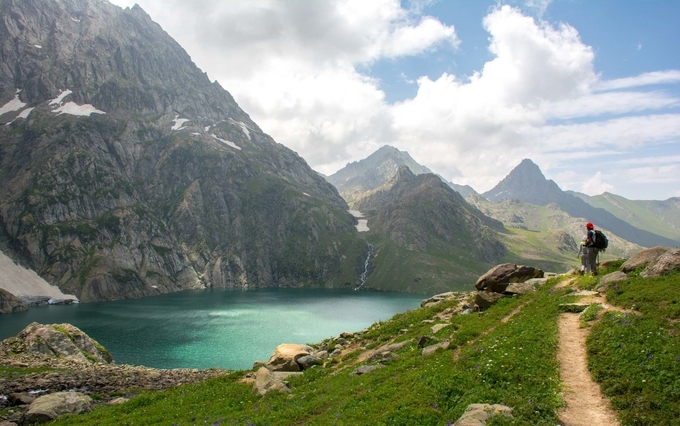 Kashmir Trek to Great Lakes: Few treks in India include several lakes on the route offering a wonderful visual. The Kashmir Trek to Great Lakes take you to seven mountain lakes known for their unmatched natural beauty. These stunning water bodies lie amidst snow-clad mountains and green meadows. This 8-day trek at a height of 4191 mt is moderate and gives you a chance to enjoy nature's bounty. From flowers in full bloom, maple, and pine trees to panoramic views of the snowbound peaks make this trek exciting.
Sikkim Trek to Dzongri: One of the most popular trek routes in Sikkim, the trek to Dzongri at a height of 4020 mt is a 9-day easy to moderate trail. This route goes from Yuksom to Dzongri including the Goecha La, Bakkhim and Phedang. You have time to see the magnificent Mt. Kanchenjunga, and the gorgeous Mt. Pandim. The monsoons make this trail greener and forest verdant. If you are a nature enthusiast, you must plan a trek to Dzongri.
Do these monsoon trek ideas excite you? If yes, then plan today. Connect with Kesari Tours for more details and better trek deals customized for you.