The Australian continent is the largest in the world and home to someone of the most well-known places that most visitors flock to. From the oldest cultures, tawny plains, stylish highways, to incredibly blue waters with uninterrupted new arrivals from the world over, Australia is mesmerizing, gorgeous and a must-visit.
There are several reasons you must visit this country at least once in your life. But did you know, it is also home to some unusual places that few know of? Kesari Tours has created a small list of unusual things to do in Australia this year.
Things to Do in Melbourne: Among the several things that most visitors prefer doing in Melbourne, there are several that don't feature in most itineraries. You can visit the Haunted Bookshop that offers books on occult, tarot, and books on Anton LaVey, Magic, Aleister Crowley, Witchcraft, Satanism, Divination, Tarot, Ghosts, Vampires, and Aliens. If you aren't afraid of ghosts, check out the personal tour offered at the bookstore with Australian TV presenter Drew Sinton who loves exploring the spooky sites.
Wunderkammer, Melbourne Storm Tunnels, Medical Museum, Flinders Street Station Ballroom, St. Kilda Pier Penguin Colony, Fairies tree in East Melbourne, the haunted Princess theatre, and others are things you can do in Melbourne.
Things to do in Sydney: Oh, we are sure the Sydney Harbour will be the first spot you wanna see when you are in Sydney. But don't forget there are some places only the locals know about. To sightsee like a local check out the SS Ayrfield the floating forest in Homebush Bay. This old oil freighter is home to a lush mango tree forest that is slowly overtaking the freighter built in 1911. This freighter survived World War -II but nature has broken it down though miraculously it still floats.
Wendy's Secret Garden in the abandoned train yard, the Forgotten Songs Sound Sculpture, the Heritage-listed Cockatoo Island, The Lex, and Ruby Graham Gardens is a labor of love after someone planted a bulb found in the ocean are other things to do. Check out the Royal Botanic Gardens, the Justice and Police Museum, Purikura Photoland, Sydney Bus Museum, and others, too if time allows.
Places to visit in Australia: Here is a list of unusual places to see and explore when in Australia.
Blue Lake: Are you wondering what's unusual about a blue lake? Well, this lake is on Mt. Gambier in South Australia in an ancient meteorite crater. What's strange is the color of the water changes depending on the time of the year you visit. April to November the lake is grey and December to March it is blue. No one knows the exact reason; however, locals believe it could be due to surface layers warming up during summer. You can also check out to the various trekking trails that will tell you how big this lake is.
Daly Waters: If you plan a road trip to Darwin from Adelaide then Daly Waters is no doubt a unique stop-off point in the Northern Territory. This pub shares its name with the town, and you can find plenty of shirts adorning the walls that visitors have left as mementos. There is a giant helicopter right opposite the pub though it serves no purpose. The pub is quirky enough to call for a stopover on your road trip.
Talbot Bay's Horizontal Waterfalls: Did you know horizontal falls existed? Well, most famous waterfalls are known for their vertical height. This horizontal fall is in Kimberly in Western Australia. Created due to a break between McLarty Ranges the waterfall flows horizontally instead of vertically as seawater builds up faster parallelly. When in Kimberly, this place is worth a visit and you can plan an adventure tour too.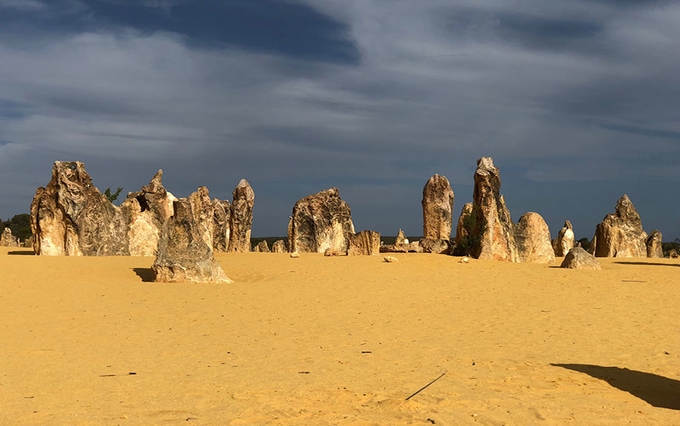 The Pinnacles: One of the wackiest places are the Pinnacles in the western Australian desert. Be ready to see thousands of weather-beaten limestone pillars also called Pinnacles. No one knows how they formed, but the limestone came from the seashells rich in aquatic life. This area was a reserve and until 1967 even the Australians were unaware it existed. The pillars are unique, unlike anything you've seen before.
Wave Rock: Mother nature is strange and at times creates masterpieces that very few can explain. Wave Rock is exactly that – a strange rock formation 296 km in the east southeast of Perth in Western Australia. The rock formation looks like a breaking wave. Also, called Hyden Rock as its close to a town with the same name. The rock is unique and feels like someone carved it instead of being a natural formation due to years of erosion.
Australia is a pandora's box of places you can see, explore, and experience whether they are the regular tourist spots or the unusual ones like those mentioned above. If you haven't planned yet, then maybe it's time you do. Connect with Kesari Tours for more information and travel deals created just for you.