The midnight sun is a natural phenomenon that often takes place in the northern latitudes of the Arctic Circle, where the sun remains visible even during midnight hours. Favorable weather conditions allow the sun to stay visible for complete 24 hours in a day. Indeed, the land of the midnight sun is perfect for all travellers willing to experience outdoor activities for long days.
Especially, you will find the unique phenomenon of the midnight sun in any of the Scandinavian cities. The only thing you must do is book a suitable midnight sun Scandinavia tour package to explore the wonders of the area thoroughly.
Here's a look at things you can do in the Land of the Midnight Sun
Whale Safari in Arctic Circle Areas
Get a midnight sun Norway tour package to travel to various Arctic Circle areas in Norway to experience whale safari and explore the entire wilderness inland. What could be more enjoyable than exploring the entire wilderness inland during summer solstice? To make the most from your tour, you should plan your visit during any time from the middle of May to end of July to get some of the best panoramic views of the midnight sun and additional days with partial midnight sun.
Midnight Walk on a Glacier
A midnight walk on the mountain glacier is one of the prime attractions for all those travelling to Svalbard in the Arctic Islands any time from April to later weeks of August. Along with this, don't miss clicking a snap of the reddish sky while moving on a dog sleigh and enjoying other aspects that are unique to the North Pole.
Midnight Swim and Midsummer celebrations
If you are strong enough to experience extremely cold weather conditions during the nighttime in the north, you should go for a midnight swim. Alternatively, you may indulge in varieties of exciting water-based activities organised regularly by the midnight sun county of Norway. These include moving in a kayak or going for a guided canoe trip, hiring a traditional or a SUP board i.e. a stand-up paddle board so that you can use it to enter the silent deltas.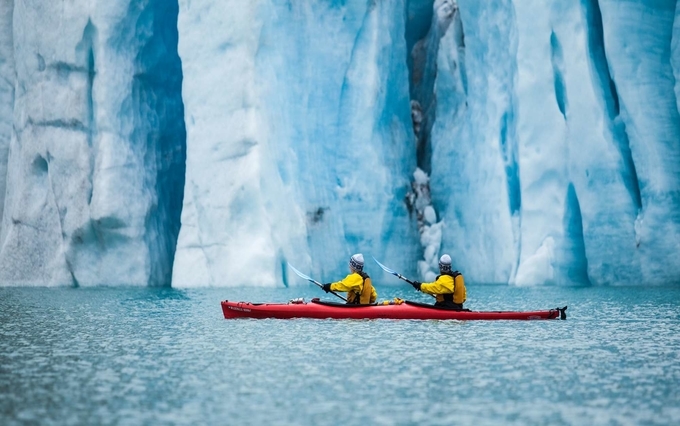 Other Midnight Sports and Outdoor Activities
Next, Norway and other Scandinavian areas provide you with a huge scope to enjoy varieties of sports and outdoor activities. The best thing is that you will find many resorts with big playgrounds to perform almost anything, which include running, cycling, biking or simply walking across the soft trails. Even if you approach a guide during your tour to the land of midnight sun, you may rent an electric bike to participate in plenty of other activities, including midnight golfing, fishing and sea kayaking and lots more.
Enjoying Leisure Time
Willing to take a break from outdoor activities during your tour to Scandinavian areas, just sit down, have tasty beverages and enjoy a leisure time with your close friends. Alternatively, if you want to sit quietly and stay calm for some time, you may prefer to sit at one of the cabin terraces. The best thing about cabin terraces is that they give the same level of calming experience, as you may expect from a sauna.
The midnight sun tour with Kesari Tours offers a variety of wonderful experience with plenty of activities that can be done under the natural light of Mother Nature. So, don't wait, book your tour today.