The literal meaning of Rajasthan is "Place of Kings". The cities of Rajasthan have a medieval ambiance even today, offering a traveler with a wide range of sightseeing options. Rajasthan has an endless list of things to do that ranges from visiting the Royal Palaces and Museums to Shopping and Desert Safaris. A popular destination to travel among Indian and foreign tourists. Rajasthan is famed for its textiles, ethnic leather goods, pottery, tie and dye, block printing, embroidery, silver and gold relief work on fabrics, elegant gold and silver jewellery, furniture, miniature paintings, blue pottery and woolen carpets in Mughal designs.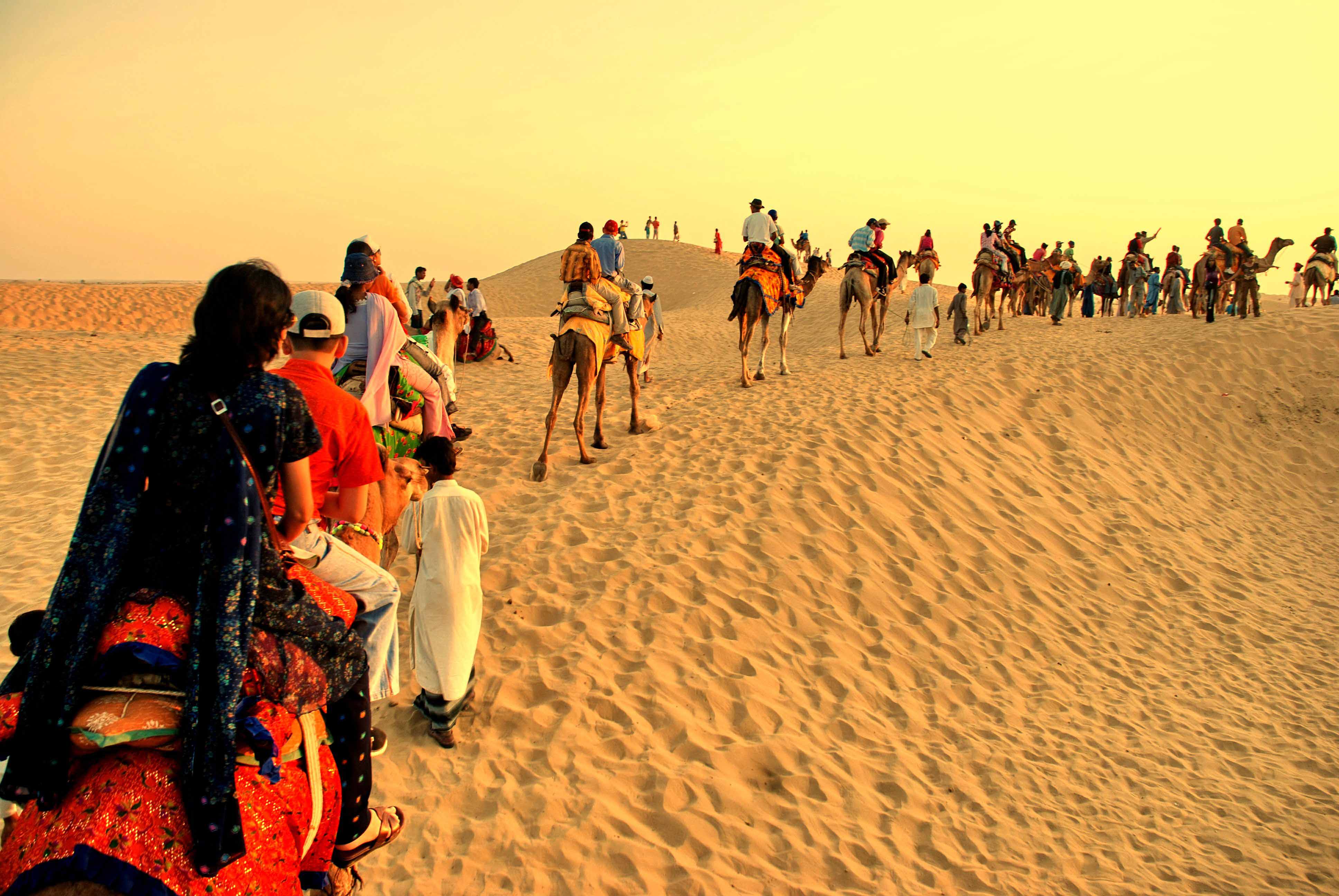 Rajasthan has long mesmerized the world with its rugged charm and vibrant culture. Land of the Rajput empire, it flaunts amazing fort architecture, monuments, camel fairs, exquisite local attire and jewelry, besides a delectable cuisine. A number of heritage palaces, desert safaris and more have continued to draw visitors from across the globe for not only vacations, but also for memorable occasions such as weddings.
Mt. Abu is a beautiful hill station in Rajasthan, with the famed Dilwara Temples that are a marvel in marble, with intricate carving. It also has several Hindu temples carved out of single rock. Mt. Abu has a wildlife sanctuary that spans the mountains.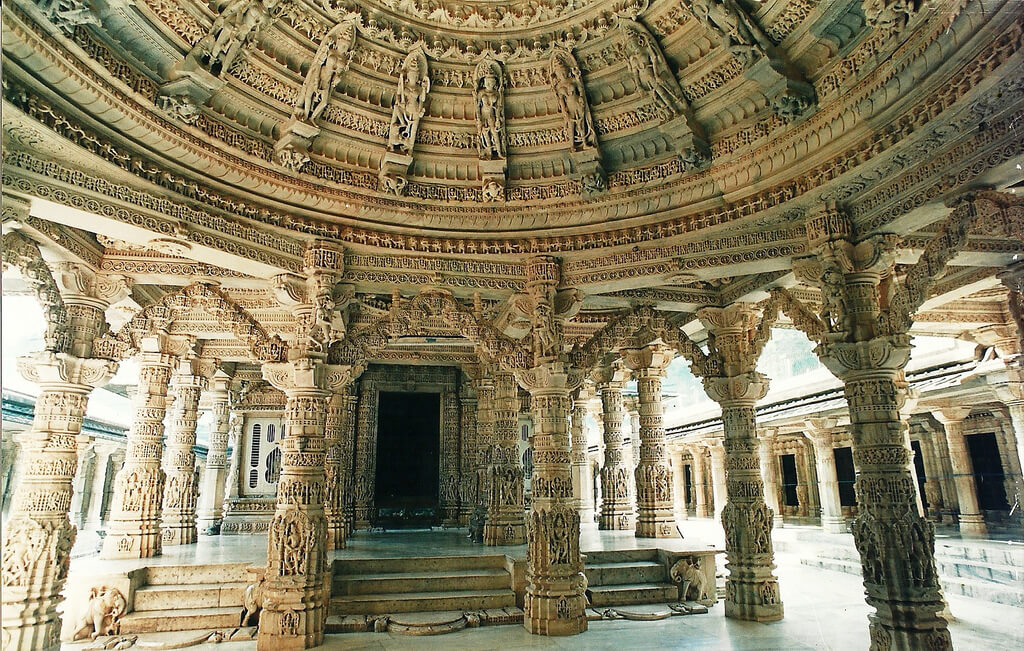 A city that has captured imaginations of the West and the silver screen is Udaipur. Beautiful lakes and heritage fort hotels, such as the Maharana Pratap Smarak – Moti Magri, Saheliyon ki Bari- 'Garden of the Maids of Honour' make it a delight for visitors. Close by is the Nathdwara temple, the seat of the Vaishnavite philosophy.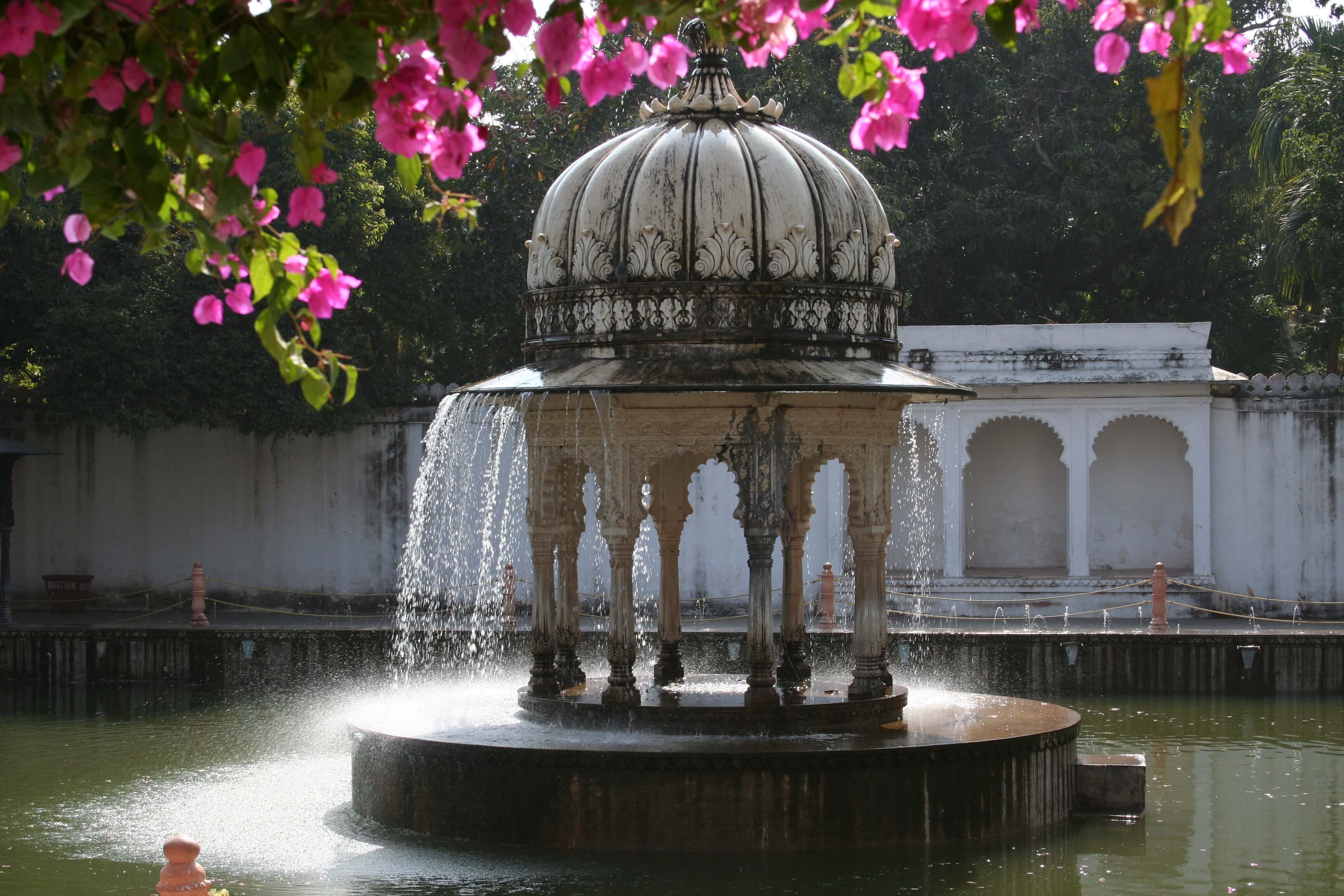 Moving from Udaipur to Pushkar, one can find the famed Chittorgarh Fort, Ranakumbha Palace, Meera Mandir, Vijay Stambh and Padmini's Palace. The monument of Moinuddin Chishti Darga awaits in Ajmer, where one can also find the sole Bhrama temple in India and the colourful Pushkar fair.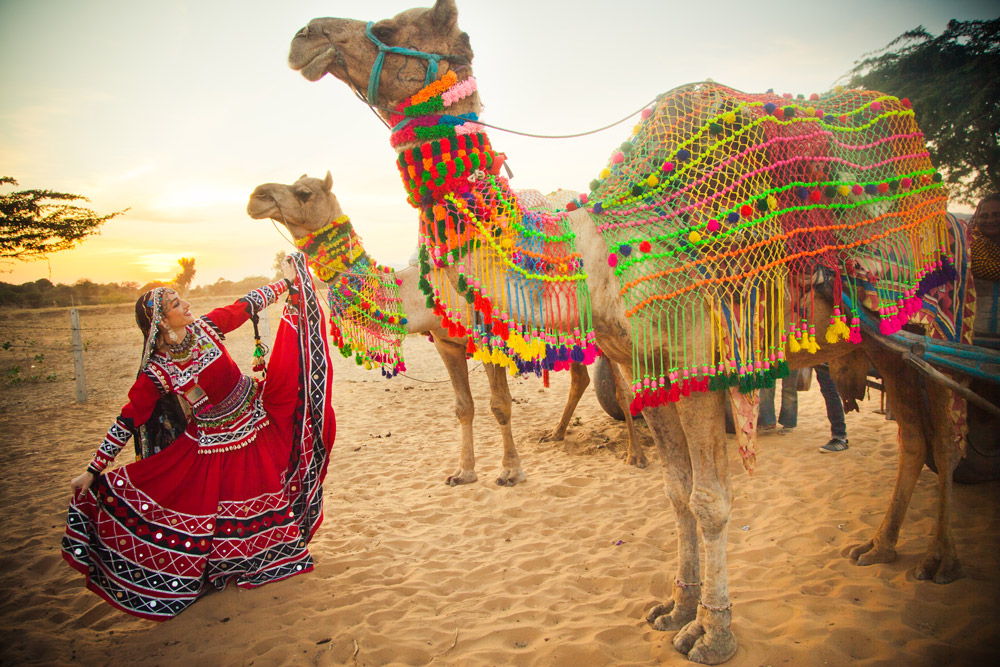 Tiger territory Ranthambore are next up on the map, allowing wildlife enthusiasts to capture the diverse species of animals in their natural habitat. Rajasthan would be incomplete without a trip to Jaipur, famed for its beautiful semi-precious jewelry, bandhanis, handicrafts, silks and the amazing Hawa Mahal, besides the Jantar Mantar. If the desert landscape and its whimsical culture entrance you, Bikaner and Jaisalmer are the spots to head for. Bikaner has a long history of forts and temples and in Jaisalmer, you can enjoy the traditional folk dances, camel rides, with a fabulous dinner as you watch the sun set on the dunes.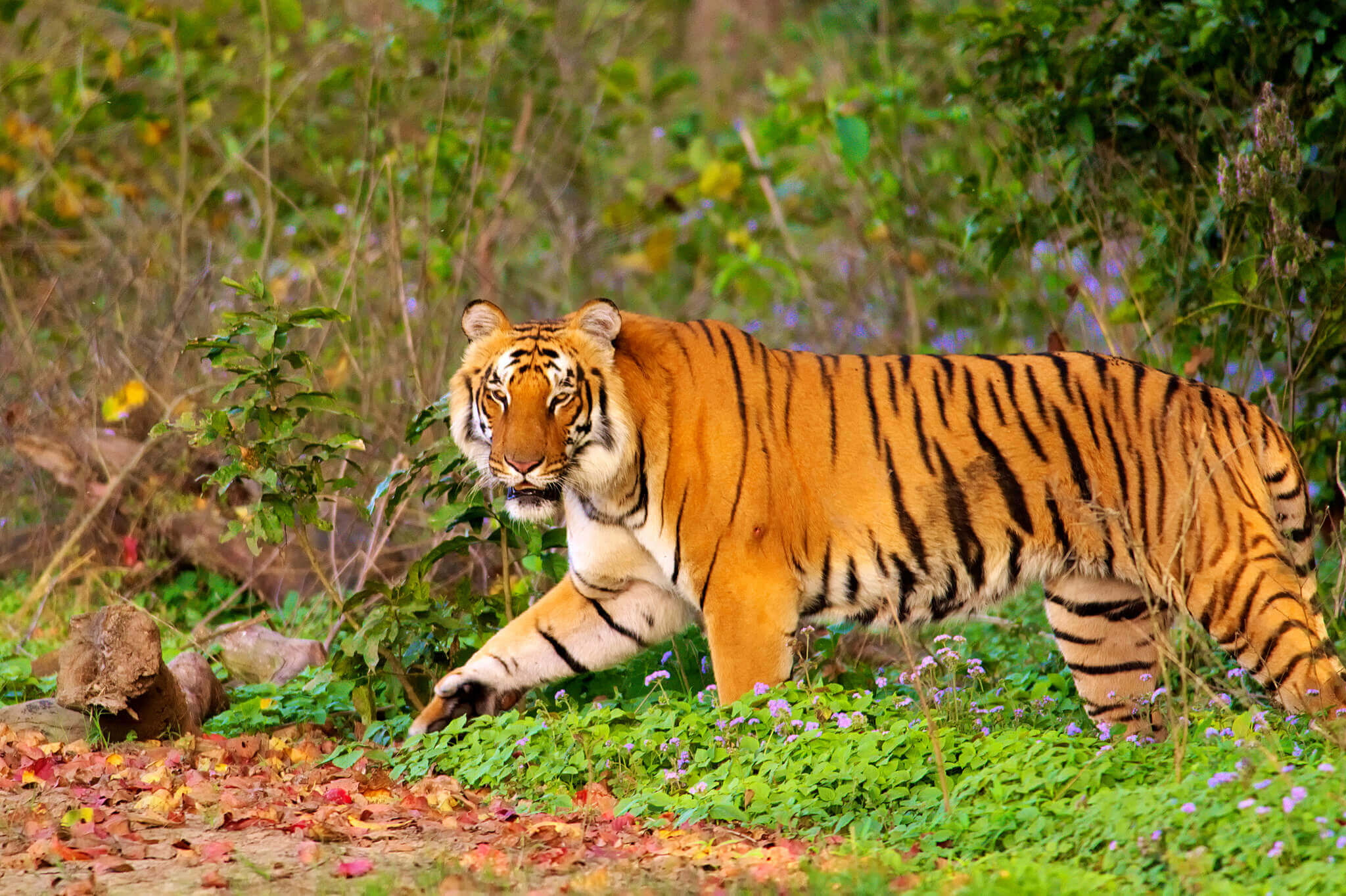 FOOD : The ancient princely state of Rajasthan gave rise to a royal cuisine. The Rajas who went on hunting expeditions ate the meat or the fowl that they brought back. Even today, Rajasthani meat cuisines are incomparable. The cooking style followed in Rajasthan is based on the natural climatic conditions of this desert land. There is scarcity of water and fresh green veggies in the state of Rajasthan, which has an adverse impact on its cooking hence, in the desert belts of Rajasthan, it is preferred to use milk, butter milk and butter in larger quantities. The food of the vegetarian Rajasthanis cooked in pure ghee and equally mouth- watering. Rajasthan's tastiest curries are based on the use of pulses or gram flour. Dry fruits, spices and yogurt are used in many delicacies. The most popular dish is dal bati churma and missi roti. There is a popular sweet of each region like Mawa Kachori of Jodhpur, Rasogullas of Bikaner, Ghevar of Jaipur, Malpuas of Pushkar etc.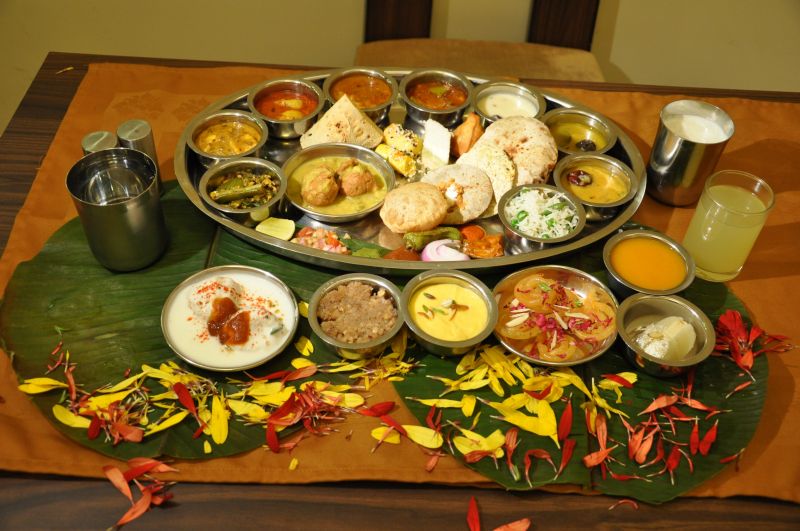 Culture : The Rajasthanis have an amazing zest for life and are fun loving, they lead a colourful and happy life, despite the relative poverty of the desert people, and the harsh living conditions that they endure. They have a rich tradition of folk music and dance, each region with its own dance styles, songs and music. There are several communities of professional performers in Rajasthan and they travel villages for their performances.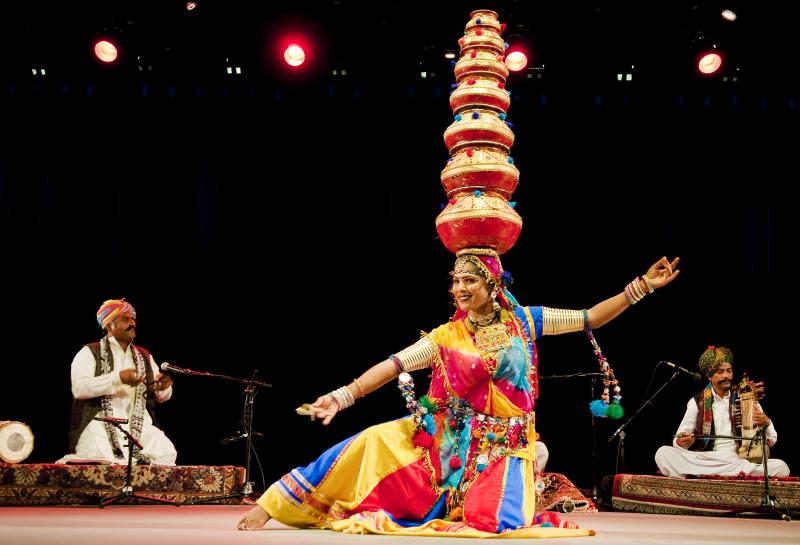 People : The important communities of Rajasthan are the Rajputs, Jats, Brahmans and the traders.The women wear long, flowing cotton 'ghagras' in dazzling colours, highlighted by sparkling gold and silver 'gota' or 'zari' that offset the dull, barren landscape. They love to wear silver jewellery and keep their faces completely veiled for privacy and also to protect themselves from the scorching sun and sand. The men are tall and and usually sport long, twirled moustaches and often a beard. They wear colourful turbans worn in different styles, denoting caste and region.